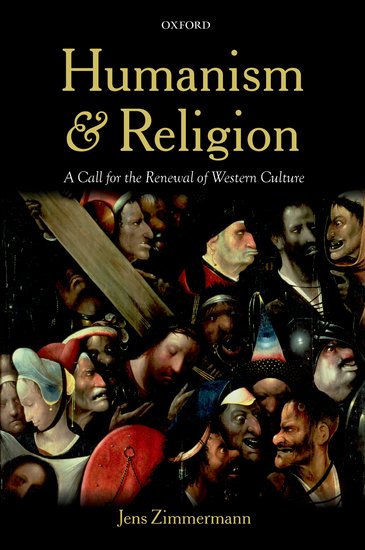 Humanism and Religion: A Call for the Renewal of Western Culture
By Jens Zimmermann
"This book is an attempt to recall the central importance of humanism for Western culture and to retrieve the religious roots of this humanistic ethos. This retrieval is motivated by the conviction that Western countries are facing cultural challenges that cannot be addressed by mere pragmatic politics or bureaucratic management. Rather, global and political changes require comprehensive reflection about the foundational ideals and values of Western culture" (1).
In this introduction to his Humanism and Religion (2012), Jens Zimmermann sets forth his call for "the renewal of Western culture," following Martin Heidegger in turning "thoughtfully," "thinkingly," to tradition. Central to Zimmermann's project are his commitments to the dignity of the human person, to the recognition of being and knowing as entangled, and to the championing of a humanism that goes beyond the dualism of faith and reason. Through this essentially hermeneutic project, it is Zimmermann's goal to "creative[ly] appropriat[e]" the "Western humanistic tradition for our time" (11).
The entirety of his introduction is available for download here.